Mark Maverick's History & Biography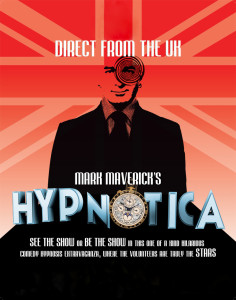 Mark Maverick's History & Biography
Born in Manchester, England, Mark began his professional career in 1989 working in comedy clubs and entertainment centers as a stage hypnotist and close-up magician.
After performing for various audiences, he decided it was time to look towards the stars and transform his show into something the world has never seen – a Vegas-caliber comedy stage hypnosis and illusion extravaganza. He created his unique blend of magic and hypnotism mixed with theatrical settings and state-of-the-art, high-tech theater technology that delighted audiences of all ages.
Venturing abroad, Mark Maverick is now one of the nation's top hypnotists, performing over 200 shows each year. His unique approach demonstrates the powers of the human imagination in a hilarious and energized show that is thrilling and mesmerizing audiences all over America. Having worked on Andrew Lloyd Webber's Starlight Express in London and on EFX with David Cassidy at the MGM Grand Hotel in Las Vegas, Mark has since developed his own production company and is also creating amazing larger scale shows such as Hypnotica.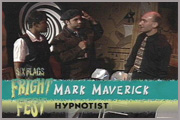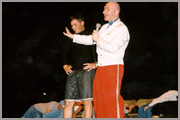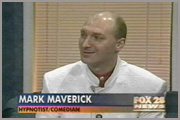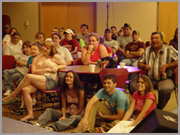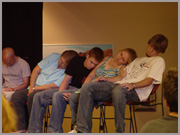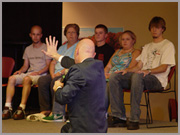 Mark Maverick's Partial Client Listing
3M Corporation, Des Moines, IA
Alcan Aluminum Corp., Terre Haute, IN
American Contractors Insurance Group, Dallas, TX
Associated Landscape Contractors of America, Tampa, FL
ATI Global Incorporated, Des Moines, IA
Aviation Association of Indiana, Angola, IN
Brooks Fiber Communications, Santa Clara, CA and  St. Louis, MO
Cargill, Inc., Des Moines, IA
Cellular One, Danville, IL
Clock Tower Resort, Rockford, IL
Delevan Incorporated, Des Moines, IA
Elcon Textron, Indianapolis, IN
Exide Corporation, Indianapolis, IN
Fehr Orthodontics, Rock Island, IL
Great West Casualty, Indianapolis, IN
Indiana Downs, Shelbyville, IN
Jefferson City Downtown Association, Jefferson City, MO
Kokomo Chamber of Commerce, Kokomo, IN
LESCO, Cleveland, OH
Lowe's Home Improvement, Columbus, IN, Greenwood, IN, and Terre Haute, IN
Maxwell House, Nashville, TN
McDonnell Douglas, St. Louis, MO
Pella Corporation, Carrollton, IA
Planet Hollywood, Indianapolis, IN
Polysius Corp, Atlanta, GA
Plexus Technology Group, Green Bay, WI
Principal Insurance Group, Des Moines, IA
Purina Corporation, Des Moines, IA
Radisson, Rapid City, SD
Small Parts, Inc., Logansport, IN
Strawberry Hill Cannoneers, Terre Haute, IN
Turner Construction, Indianapolis, IN
UAW Auto Council Region #3, Indianapolis, IN
Utility Health Services, Indianapolis, IN
Wal-Mart, Indianapolis, IN
Wheaton Worldwide Moving, Indianapolis, IN
White Castle, Indianapolis, IN
AmeriStar Casino, Council Bluffs, IA
Boomtown Casino, Las Vegas, NV
Carpenter Performance Hall, Dallas, TX
Irving Performance Art Center, Dallas, TX
The Garrick Theater, London, England
Hyatt Regency New Year's Eve Gala, Indianapolis, IN
MGM Grand, Las Vegas, NV
Phoenix Park Entertainment Centre, London, England
Radisson Hotel, Rapid City, SD
Rural Alliance for the Arts, Indianapolis, IN
Siz Flags Over Mid-America, St. Louis, MO
Arkansas State University, Beebe, AR
Ball State University, Muncie, IN
Buffalo State College, Buffalo, NY
Butler University, Indianapolis, IN
Concord University, Athens, WV
East Carolina University, Greenville, NC
Fashion Institute of New York, New York, NY
Indiana State University, Terre haute, IN
Lees McRae College, Banner Elk, NC
Lockhaven University, Lockhaven, PA
McDaniel College, Westminster, MD
Mercer College, Macon, GA
Midwestern State University, Wichita Falls, TX
Mount Ida College, Boston, MA
Muskingum College, New Concord, OH
New Mexico Military Institute,  Roswell, NM
Northwest Missouri State University, Maryville, MO
Olivet College, Olivet, MI
St. Edwards University, Austin, TX
St. Mary's University, San Antonio, TX
St. Thomas University, Houston, TX
Southern Arkansas University, Magnolio, AR
Tarleton State University, Stephenville, TX
Towson University, Towson, MD
University of Texas – Dallas (UTD), Dallas, TX
Vernon College, Vernon, TX
Carnival:
Dream
Magic
Fantasy
Spirit
Elation
Triumph
Splendor
Paradise
Sunshine
Pride
Miracle
Liberty
Freedom
Breeze
Princess:
Norwegian Jewel